The CBD Gold Rush Is Over & It's Great for Consumers
[ad_1]

Disclaimer: I am not a financial advisor. Nothing contained in this post should be construed as investment advice.
---
CV Sciences ($CVSI), the company behind leading brand +PlusCBD, had a meteoric rise in 2018. The U.S. Farm Bill had just passed, legalizing hemp farming across the country. Research firms projected that the CBD industry would grow to over $20 billion in annual revenues. CV Sciences was at the forefront, widely acknowledged to be one of the top two companies in the CBD industry (the other being Charlotte's Web). At one point in 2019, the company's market capitalization reached $575 million.
A lot has changed in three years. The company's stock price is now down over 99% from its peak in 2019. Its market capitalization is just over $5 million. Safe to say the gold rush is over?
While the worst may be over for CV Sciences, the stock could easily go to zero. And that'd be a great thing for consumers.
What Happened to CV Sciences?
CV Sciences used to be a leading cannabis company. At one point in 2019, they had nearly $16M in cash. They're down to ~$2.5M now. (The uptick last quarter was from raising $1.4M from investors via convertible notes).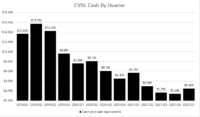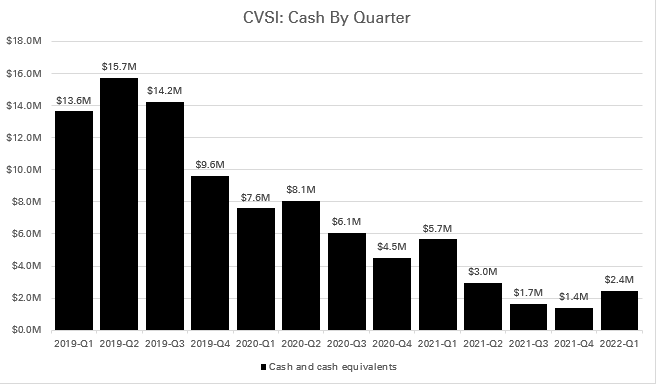 A low cash balance alone is not a death sentence. Unfortunately, the business isn't looking great either. Revenues have declined substantially (even prior to COVID).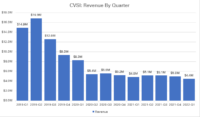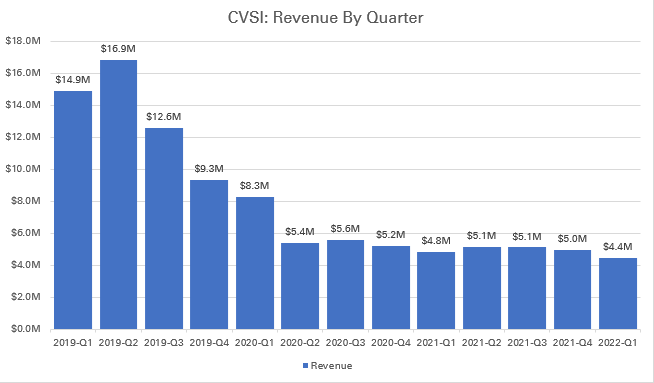 To make matters worse, profitability has declined big-time, too (they're likely doing heavy discounting to keep revenues afloat). CVSI used to have gross profit margins above 70%. Last quarter, they were just 26%.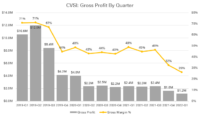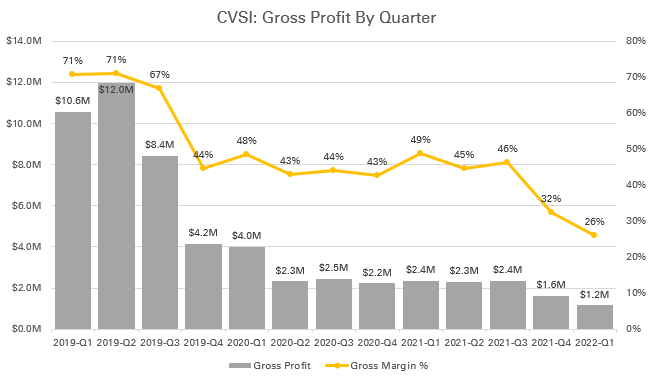 It's no surprise then that CV Sciences has been running at a loss for several quarters, including a $2.2 million net loss in Q1 of this year. The loss would have been larger, but the company recognized a $2M expense reduction, courtesy of federal COVID relief.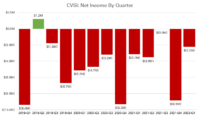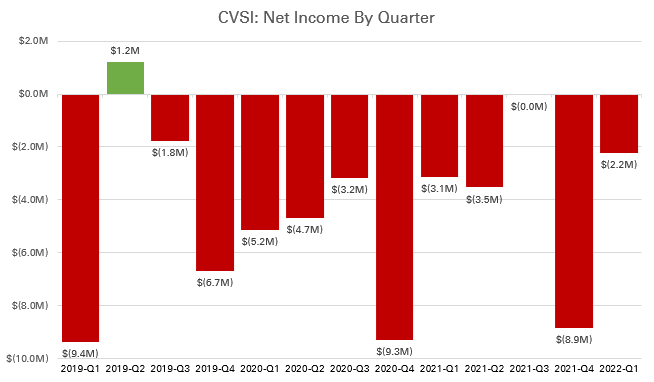 To be fair, slow growth is not unique to +PlusCBD.
It's a problem across the CBD industry and major players, including Sunsoil (where I work). Overcrowded market. Pandemic retail downturn. Uncertain regulatory environment for cannabis. The industry has been hit with a number of obstacles. But at least if growth isn't fully in their control, maybe they could improve the bottom line? Unfortunately, no. CV Sciences doesn't have any levers to pull—because they outsourced every meaningful part of their supply chain.
Hemp farming?
CBD extraction?
Product manufacturing?
Outsourced. Outsourced. Outsourced.
The CBD Industry's Problem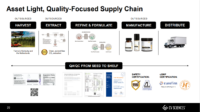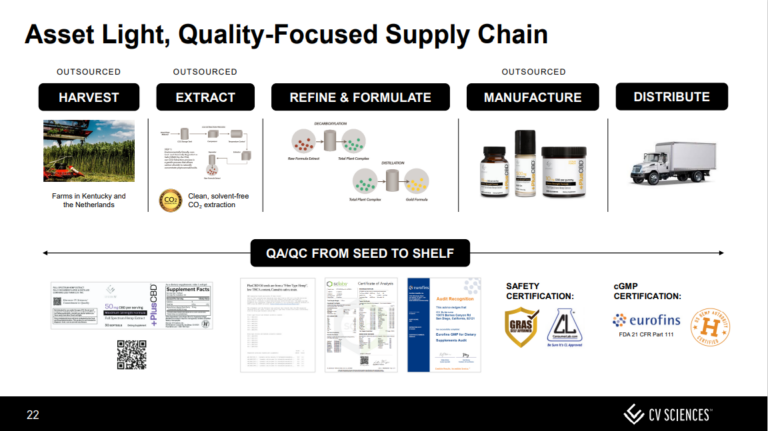 For years, CVSI touted its capital-efficient, "asset-light" strategy. It was a pure marketing and distribution company, with little extra baggage. In Q4 of 2019, equity analyst Pablo Zuanic asked the obvious question (edited for clarity):
[W]hen you say asset-light, I can interpret that in a different way. I would say asset-light means a lot of third-party involvement—less control of your supply chain.

So, how does being asset-light make you different from other CBD companies out there—there's a lot of them that outsource pretty much everything?
CV Science's core problem is the industry's core problem. Today, there are thousands of brands, selling the same, white-labeled CBD oil at prices that 90% of people can't afford. Put simply, everyone's selling the same, expensive crap. There's a complete lack of meaningful innovation. When I say innovation, I don't mean flashy, new products. (I'm pretty sure we've put CBD in everything already). I mean making quality CBD that's actually affordable. Most CBD companies like to complain that FDA inaction has kept the market from reaching its potential. Few are focused on the bigger problem that's really containing the size of the market: high prices. Taking 40mg of CBD daily costs $120/month from the average brand.
Who can afford that?
The Road Forward
Left with few options, CV Sciences has been raising prices on its products online (in-store prices are likely to follow suit). That's a dance that won't last forever. Consumers are smart. They'll find alternatives. The company might live to fight another day—but the broader trend is clear. The excesses of the cannabis gold rush are being washed away.
The survivors will be the ones who meaningfully innovate: making higher-quality products that the mass market can afford. That's a great thing for consumers, even if it doesn't bode well for CV Sciences. By the way, my company Sunsoil makes organic CBD oil at half the price of "leading" brands like +PlusCBD. (We're also profitable.) Not only that, but we're on a path to cut prices by 80% over the next 5 years. We see a future where quality CBD oil costs the same as Advil. If you're a +PlusCBD customer (or a customer of any CBD brand) we'll give you $200 to switch to Sunsoil.(Yes, seriously).
[ad_2]

Source link