Registration Open for 2022 Cannabis Quality Conference & Expo
[ad_1]

EDGARTOWN, MA, March 23, 2022 – Registration for the Cannabis Quality Conference & Expo, taking place October 17-19 at the Hilton Parsippany in New Jersey, is now open.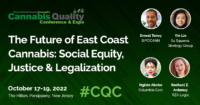 The agenda features breakout sessions, keynotes and panel discussions that will help attendees better understand the cannabis markets in the region and provide insights on best practices and business strategies. The conference will begin with a keynote presentation, then a panel on The Future of East Coast Cannabis: Social Equity, Justice & Legalization. Following that will be a panel on The Standardization State of the Union: Science-Based Resources for Driving Cannabis Safety with an overview of the New Jersey cannabis marketplace to end the first day.
The second day will kick off with a Keynote titled Centering Equity in Cannabis Policy, Quality & Business with Toi Hutchinson, President & CEO at Marijuana Policy Project. Other agenda highlights include:
The State of the State: An Update on New Jersey Legalization by Steven M. Schain, Esquire, Attorney at Smart-Counsel, LLC
Tri-State Cannabis: Pro Tips for Winning Applications by Sumer Thomas, Director of Regulatory Affairs and Russ Hudson, Project Manager at Canna Advisors
Navigating Cannabis Testing Regulations for Multi-State Operations by Michael Kahn, President & Founder of MCR Labs
Keynote by Edmund DeVeaux, President of the New Jersey Cannabusiness Association
A Guide to Infusion Technology | Design Experiences that Inspire and Innovate with Cannabis Ingredients by Austin Stevenson, Chief Innovation Officer at Vertosa
Valuable Analysis Ahead of Asset Acquisition by Matthew Anderson, CEO of Vanguard Scientific
Registration options are available for in-person, virtual and hybrid attendance.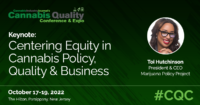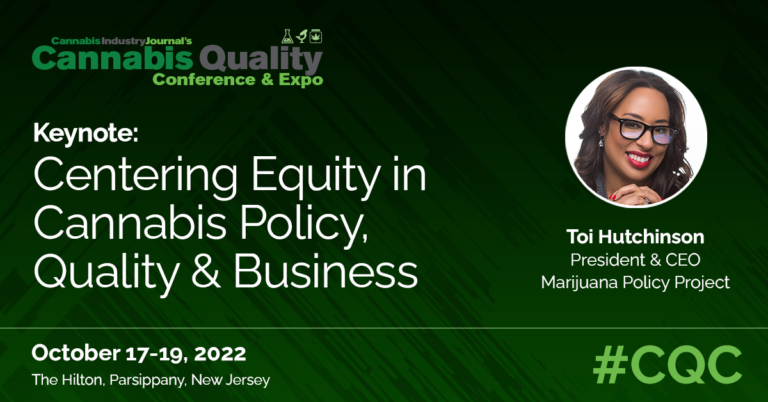 Event Hours
Monday, October 17: 12 pm – 6:30 pm (ET)
Tuesday, October 18: 8 am – 5:45 pm (ET)
Wednesday, October 19: 8 am – 12 pm (ET)
Tabletop exhibits and custom sponsorship packages are available. For sponsorship and exhibit inquiries, contact RJ Palermo, Director of Sales, and Chelsea Patterson, Account Executive.
Cannabis industry professionals also interested in the food industry can attend the Food Safety Consortium, which begins on Wednesday, October 19 – Friday, October 21. The program features panel discussions and breakout sessions that encourage dialogue among mid-to-senior-level food safety professionals. The Food Safety Consortium kicks off with an FDA Keynote and Town Hall, followed by a panel on the State of the Food Safety Industry and where it is going, led by Darin Detwiler of Northeastern University.
About Cannabis Industry Journal 

Cannabis Industry Journal is a digital media community for cannabis industry professionals. We inform, educate and connect cannabis growers, extractors, processors, infused products manufacturers, dispensaries, laboratories, suppliers, vendors and regulators with original, in-depth features and reports, curated industry news and user-contributed content, and live and virtual events that offer knowledge, perspectives, strategies and resources to facilitate an informed, legalized and safe cannabis marketplace.
About the Cannabis Quality Conference & Expo

The Cannabis Quality Conference & Expo is an educational and networking event for the cannabis industry that has cannabis safety, quality and regulatory compliance as the foundation of the educational content of the program. With a unique focus on science, technology, safety and compliance, the "CQC" enables attendees to engage in conversations that are critical for advancing careers and organizations alike. Delegates visit with exhibitors to learn about cutting-edge solutions, explore three high-level educational tracks for learning valuable industry trends, and network with industry executives to find solutions to improve quality, efficiency and cost effectiveness in the evolving cannabis industry.
[ad_2]

Source link